Replacing Rear Wall
When I purchased the vehicle Steve had a bag of misc. parts to go with the car (as all Porsche owners have). Sticking out of the bag was a long ridged piece of what looked to be black plastic. I asked what that was (assuming it was some sort of under guard). Steve poped the rear and lifted the spoiler. The "Rear Wall" (as the tech manual refers to it as) it seems had some cracks.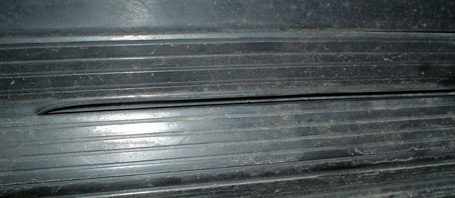 "I always meant to replace it" Steve says to me.
So I've been driving like an ass as of late (over 100mph), so I figured I better replace that Rear Wall and keep the rear of my car down before I kill myself.
It's covered in dirt and soot back there. Ah, reminds me of my old 912, So I lift the spoiler to see how the hell I'm going to replace it. 4 Shaft-bolts (micro-encapsulated M 6 x 24) need to be removed first. Not a problem. Then, after some thinking I lower the spoiler to half way to gain access to the lower portion. I have to "pop" it out. Now the whole unit is off. On my bench I try and see how to remove the top portion? A putty knife does the trick (rather well) so the whole Rear Wall is now detached.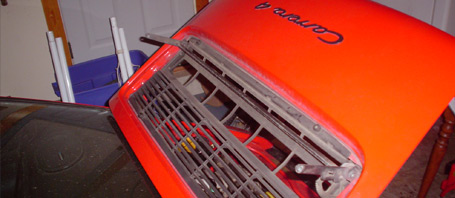 I clean the spoiler up a bit. Remove the "Made in Germany" sticker. I use the putty knife again to attach the top area. It snaps in place. I then screw back in the 4 Shaft-bolts (loose). The bottom section pop's back in with no real issues. I seat the 4 bolts and there you have it.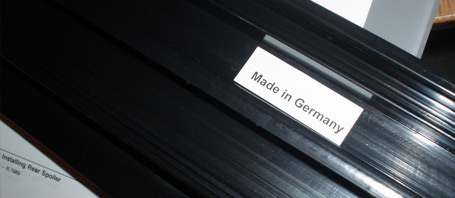 I test the raising and lowering of the spoiler to make sure there is good clearence, no binding, and no more cracking. All is good. I take her out on the road to see if I can feel any difference. I could lie and say:
"What a differenc that made - good thing I replaced it..." but I'd be lying out of my ass. This was a simple project that I knew I could take care of in a night and not have to leave the car in the garage till I got back around to it. Enough said.